We're pleased to offer the following services in our Sarasota Veterinary Clinic:


Full-service laboratory
Our in-house lab offers many important diagnostic tests that we will use to find what treatment your pet needs. An outside lab is also utilized when more specialized testing is required.

Radiology
Taking x-rays is another important diagnostic tool we offer.

Dental care
Examining your pet's teeth annually is important to maintain good health. Dental cleaning and brushing instruction is available, as well as dietary aids. Teeth cleaning is available by our qualified and experienced staff.

Well-pet exams & vaccinations
Your pet's annual visit is an important tool (semi-annual for at-risk and senior pets) to maintain overall health. We often can spot symptoms early on and avert later, more costly problems. Vaccinations are recommended based on risk exposure. We are not a one-size-fits-all practice.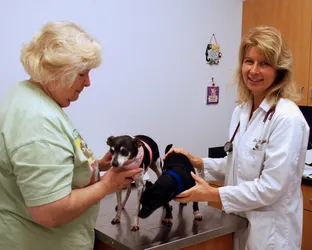 New puppy & kitten care
We'll help you get your new pet off to a good start in life by discussing diet, house-training, grooming, proper behaviors, and answering any questions and concerns you may have.

Geriatric care
We will address changes in your pet which may occur past the age of seven. We like to see our senior pets on a semi-annual basis if possible past this age to be pro-active in catching problems before they get out of control. We also suggest once-a-year blood work and urine testing for the same reason.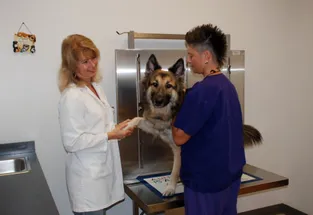 Surgery
We offer general surgery such as neutering and spaying as well as emergency surgical services. We also work with board certified surgeons, neurologists, and other specialists, available on a referral basis.

Microchipping
An easy and economical way to protect your "best friend." Should you and your pet become separated for whatever reason, having a microchip implant will help you find each other again!

Allergy testing
Allergies in pets is on the rise and testing is often needed to determine effective treatments.
Our receptionists and team members will attempt to accommodate all requests to the best of our ability.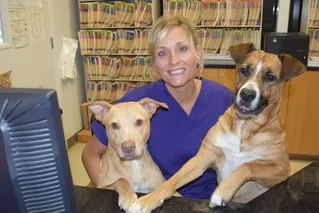 If your pet needs emergency care, please call us immediately before bringing your pet in to have a staff member advise you. Based on our doctor and staff availability we will try to see your pet, or we will direct you to one of the emergency clinics we work closely with in town if we deem that to be a better option for you based on the nature of the emergency.
Best Friends Animal Hospital accepts payment via cash, check, MasterCard, Visa, Discover, and CareCredit. So that we can continue to provide you high quality service utilizing the best medical technologies, we request that payment be made at the time services are rendered.
We will provide a Treatment Plan for all surgeries and hospitalizations. If you have not received a Treatment Plan, you are welcome to request one at any time for your expected charges.